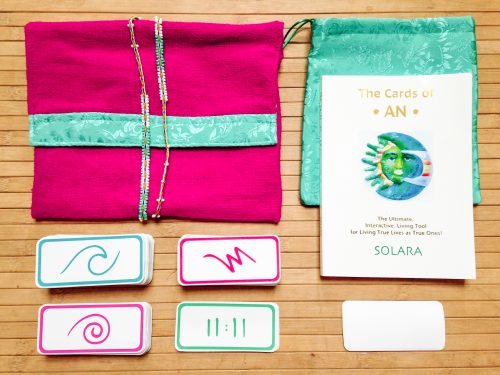 The Ultimate, Living, Interactive Tool
for Living True Lives as True Ones!
The Cards of • AN 'A MU'A •
Navigating with Trueness
through the 11:11 into the New Reality!

The Cards of AN have been transformed
by
• Adding new Cards •
• Changing some of the existing Cards •
• Deleting some outdated Cards •
The new Cards come with an updated book.
For owners of the previous Cards of AN
we wanted to offer a special package
with the new book and all new or changed Cards.
Because of problems with our printer
if and when these might be available is unclear.
Created by Solara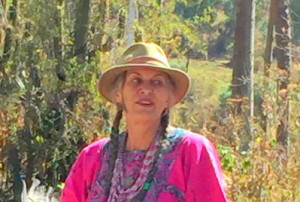 • The Visionary of the 11:11.
• Co-creator of the Heart of AN in Peru.
• Author of "The Star-Borne"• "11:11 – Inside the Doorway"
"The Legend of Altazar" • "How to Live Large on a Small Planet"
and "EL•AN•RA: The Healing of Orion".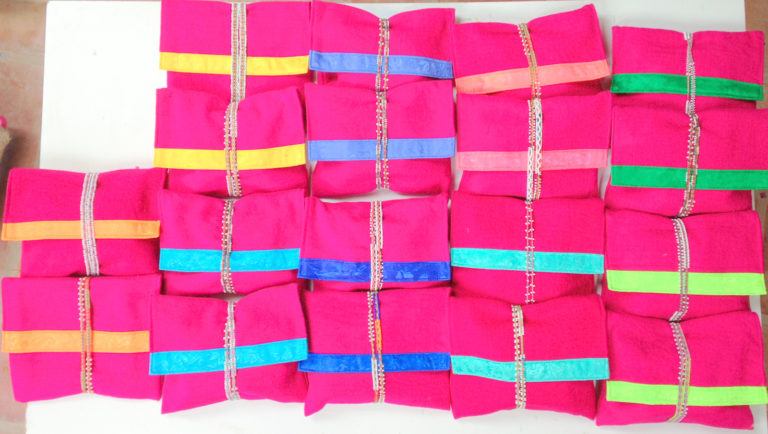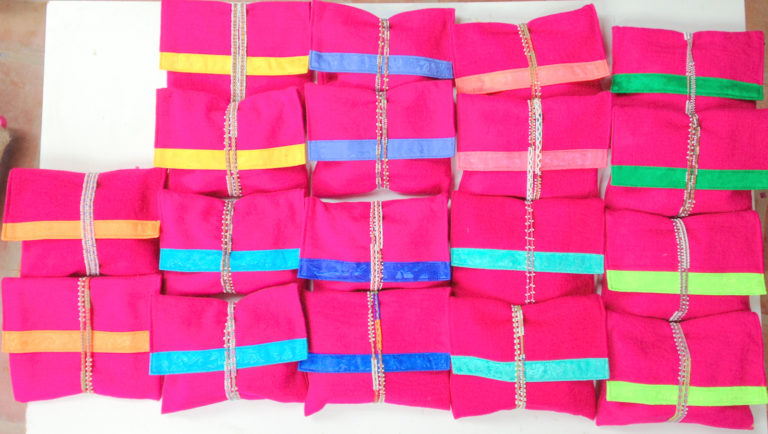 Four unique Card Decks give readings of stunning accuracy on multiple levels,
helping us unhook ourselves from duality
and fully anchor our beings in the New Reality.
.

• • Absolutely brilliant and unlike anything else! • •

HERE'S OUR FIRST TESTIMONIAL:
"If anyone hasn't yet bought these wonderful and unique Cards of AN, do yourself a favour. There is something incredible about the way they work, aligning you with our One Being so strongly, bringing you instantly home, aligning you on the highest levels of vibration and enlightenment and then, giving you multidimensional answers and insights in a most captivating and breathtaking way.
Add to that Solara's personal stamp of her inimitable beauty and grace and the supreme wisdom of her reigning starry origins and you have got yourself the most magical gift the universe can offer. Don't hesitate!"…. Elexa Adanna
.

 WHAT YOU GET:
(Photo shows color "AN Lime")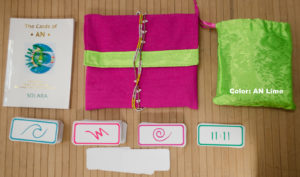 1 Book "The Cards of • AN 'A MU'A •" with definitions of all cards and instructions on how to read the cards (160 pages, language: English).
Approx. 337 Cards in Four Decks.
1 Bag, handmade in the Sacred Valley of Peru, of handwoven, magenta bayeta wool which is lined with silk brocade, for the book and the cards. Inside this bag is a smaller drawstring, silk bag just for the cards. The larger bag is closed by a Sancapa (beaded, handwoven band), made by the Q'eros at Apu Ausangate, the sacred Mother Apu of Peru.
Weight without packaging: 1.98 pound / 0,900 kg
Example of content in color "AN Deep":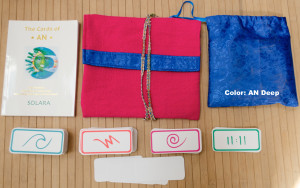 Example of Card bag, inner bag for Cards and the book in color "AN Deep":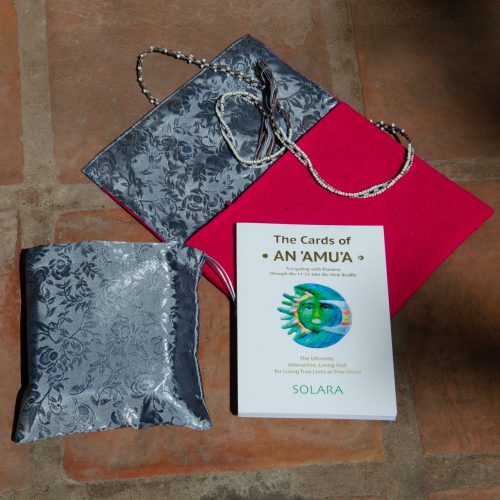 12 colors are currenly available with limited quantities of each color.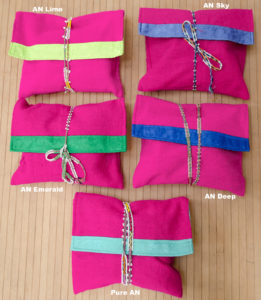 Pure AN: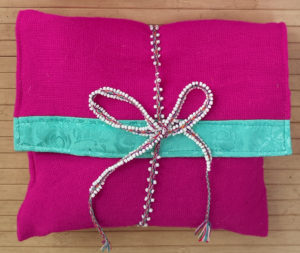 AN Peacock – NEW!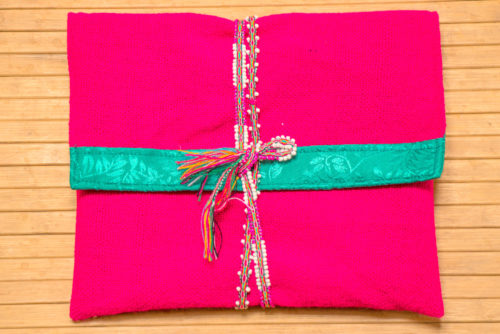 AN Deep: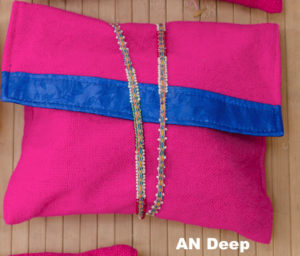 AN Emerald: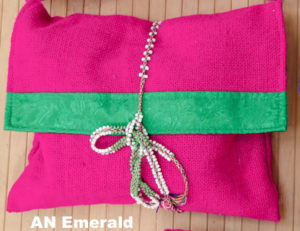 AN Lime (a bright lime green):
Much brighter than shown.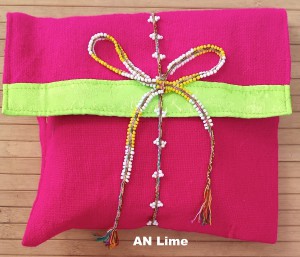 AN Sky: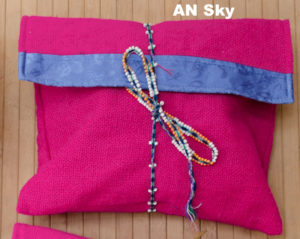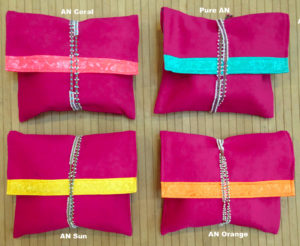 AN Coral:
!!! CURRENTLY SOLD OUT !!!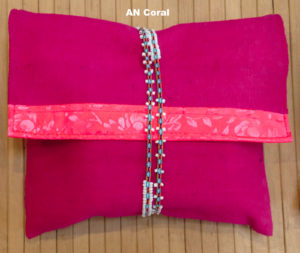 AN Sun: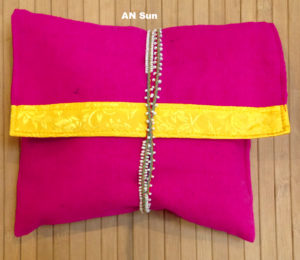 AN Orange: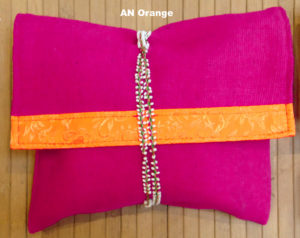 AN Místico: NEW!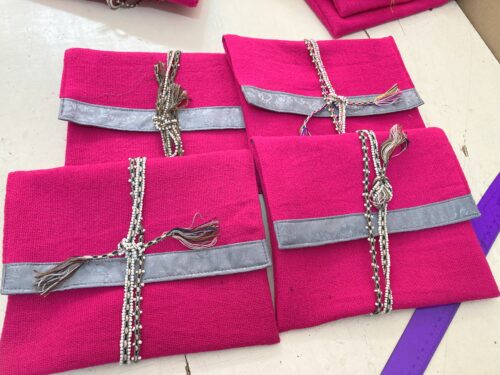 AN Lotus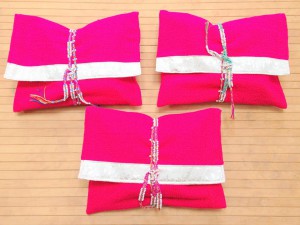 AN Lake
!!! CURRENTLY SOLD OUT !!!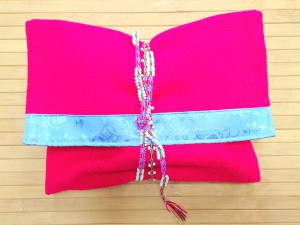 These photos also show examples of the beautiful Sancapas which close the bag. Each beaded, handwoven Sancapa is unique and made with much love by a Q'ero family on the slopes of the sacred mountain, Apu Ausangate.
Since the colors of the silk brocade are available in limited quantities, we only have a small number of bags available in each color. New colors may be added from time to time.
The Cards of AN 'A MU'A are laid out on a Card Cloth. You can use any special cloth for this, or you buy one here from the AN-Mercado. See our collection of one of a kind, handwoven Card Cloths here.

• • •
IMPORTANT NOTICE ABOUT SHIPPING CHARGES:
The "Cards of AN 'A MU'A" are currently shipping from the Heart of AN near Cusco, Peru which makes the shipping costs to the US $33, to Europe $39 and to Australia and Asia $42 (for one set of Cards). Shipping from Peru takes at least two weeks via registered airmail.
You can add one small Sun-Moon-AN (or another) pendant without paying more shipping.
If you buy two or more sets of cards then the shipping will be computed by weight and the shipping will be cheaper per bag.