Q'ero Mesa with Stars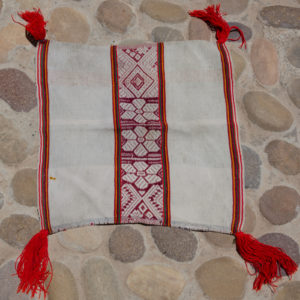 Handwoven mesa (cloth for sacred medicine bundle) from the Q'eros at Apu Ausangate. The background is a natural color with a central motif of stars woven in red. The colors of the stars are reversed on the opposite side. Attached at the four corners are colorful pom poms.
Inside the mesa, one puts small sacred objects such as special rocks. The mesa is then folded inwards diagonally at the corners and the sacred medicine bundle is tied up with a Sancarpa. Handwoven of alpaca or sheep wool.
Measurement: 43cm (16.9 in) x 46cm (18.1 in)
Weight: 0,11kg (0.2 pound)