Traditional Jacket from Chinchero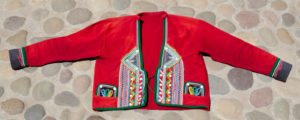 This is the traditional jacket worn by the women of the Andean village of Chinchero. It is made of a light weight red wool embellished with rickrack and buttons.
They are handmade and don't come in specific sizes. This one is closest to  a medium. It's authentic and beautiful and is in great condition, although not new. Bright and happy, comfortable to wear.
Weight: 0,3kg (0.6 pound)