Handwoven Red Lliclia
with Chakanas and Horses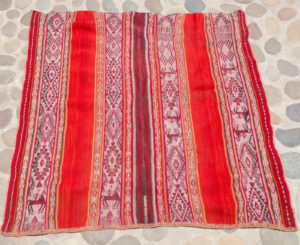 Vibrant, one of a kind, handwoven lliclia carrying cloth. Woven into it are designs of chakanas, hearts, diamonds, the Four Directions and horses!
Handwoven of handspun wool ~ either sheep, alpaca or llama. It took 2 – 3 months to weave. This very special manta is in various shades of red, with accents of green, orange and magenta. It's really gorgeous! Can be used as an altar cloth, wall hanging or for ceremonies.
Measurement: 111cm (43.7 in) x 108cm (42.5 in)
Weight: 0,87kg (1.9 pound)