Shipibo Embroidered Cloth in White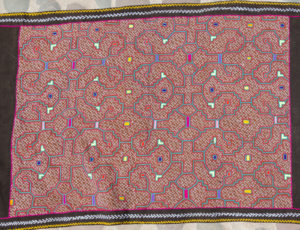 The Shipibos live in the rainforest areas of Peru. The designs on their cloths are influenced by their experiences with plant medicine. Many of the designs represent their map home through the stars.
This is a long, rectangular dark brown, cotton cloth. Set into it is a rectangular piece of lighter brown cotton which is intricately hand embroidered. The designs are filled in with white embroidery and outlined with green and red.  Some of the geometric shapes are filled in with magenta, yellow, red, blue, purple, pink and orange embroidery. It's quite beautiful.
Can be used as a wall hanging, altar cloth or can be made into a pillow cover.
Measurement: 155cm (61.0in) x 67cm (26.4in) / weight: 0,2kg (0.4 pound)